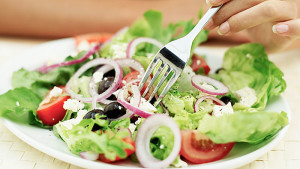 They say that only meat provides good protein, but vegetarians do not agree with that. Green leafy vegetables have rather high protein content than meat. Not only that, vegetables also a good source PEOs. All the PEOs or the essential fatty acids (EFAs) and their proteins are more easily absorbed than the protein that you get from meat. Enzymes from the living plant are designed to help with you digestion. But in order not to destroy the enzymes, don't cook it or else you will lose all the enzymes and nutrients.
Several people claimed that you can't get enough protein from a vegetarian diet, but that completely false. The trick is combine grain with a legume because each are low in one essential amino acid, but when combined together they can make a complete protein.
One can get a complete complement of the protein and PEOs in a vegetarian diet from green leafy vegetables. Spinach is a great example, its protein quality score is a stunning 119, with 100 considered a complete high-quality protein. Thirty grams of spinach or 1 ounce get you one gram of great protein.
Seeds are also great sources of protein. Pumpkin seeds are rated 136 in quality protein. One ounce of pumpkin seeds provides about 10 grams (1/3 ounce) of fully accessible protein. Man nuts like northern nuts are protein packed. Walnuts for example can provide about 10% by weight of protein. However, nuts do not contain all the essential fatty acids that your body needs. For vegetarians, it is still essential to eat variety of fresh vegetables throughout the day to supplement all the proteins and PEOs needed by your body.
Mike Maunu – Founder
Oxygen4Life.com