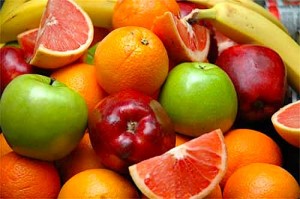 For most people, night time eating or midnight snacks while watching their favorite TV or game shows are often loaded with carbohydrates and junks like chips, ice cream, chocolates, pizza, soda and beer.  New Diabetes Nutrition Guidelines Play Down Importance of Carbohydrate source. Diabetes Care, January 2002. We eat and eat until our cravings for fats and sweets are fulfilled, but we don't realize that what we eat does not really fulfill our cravings. We just eat more and more instead. In order to fulfill what we crave for, we have to eat fruits. A whole fruit is rich in good carbohydrates, sugar and most of all loaded with Parent Essential Oils (PEOs).
With the magic of a whole fruit, your cravings will be fulfilled easily without craving for more. It means, you will not eat more or it slows down your appetite. Crabs make people fat, but fruits will not make you fat because of its fiber content as well as PEOs. High glycemic pasta can't satisfy your sweet tooth either; it will just make you fatter.
A whole fruit is comprised of three different types of carbohydrates, PEOs and a certain amount of its sugars may go to fat. However, they key is that in order to fulfill the cravings for sweets a whole fruit is much, but much less fattening on a per weight basis than any other carbohydrates. The whole point here is it is safer to eat a whole fruit at night than eating pasta, chips, pizza and drinking soda so that your cravings can be fulfilled easily and you will eat less instead of craving for more.
Mike Maunu – Founder
Oxygen4Life.com