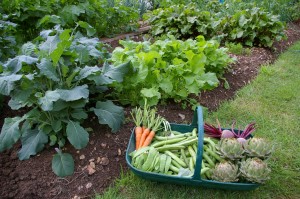 Living foods are fresh and raw fruits and vegetables. They are vegetarians/vegans' favorite foods to eat. Living foods are rich in unadulterated PEOs when in they are in raw form. Fruits are seasonal, but more of them are in peak season during summer like berries and melons. However, during cooler months, nature provides lesser fruits so you have to concentrate on eating vegetables to acquire your required PEOs every day.
The "Living Foods" diet is the best solution to stay healthy and fit as well as to obtain more functional PEOs. Eating fresh and raw fruits and vegetables keeps the Parent omega 6 intact in the food that we consume. But not all living foods are all healthy; we need to look for organic fruits and vegetables. "Vegetable protein was negatively associated [bone loss resulted]." Animal Protein Consumption Associated With Bone Density in Elderly Women. American Journal of Epidemiology 2002; 155:636-644.
For a healthy comfort food, you should look for organic corn and organic butter. You can also enjoy eating organic yogurt. You can also indulge eating organic dark chocolates, but if you are craving for ice cream you can eat full fat yogurt instead.
Eating out is not heathy. Most fast foods and restaurants use toxic oils. Processed foods does not contain PEOs, therefore they are not good for your health. But there are also restaurants that offer vegetarian and organic foods. They offer salad with fresh vegetables like lettuce, broccoli, carrots, spinach, cucumber and other green leafy vegetables. You can also order a platter of fresh fruits like strawberries, mango, pineapple, melon, banana or whatever fruits are available or in season.
Mike Maunu – Founder
Oxygen4Life.com